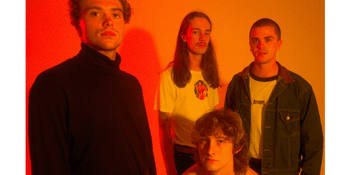 New World Artists presents
Concrete Surfers - Ballarat
with special guests
The Eastern (Ballarat, VIC)
Saturday, 14 March 2020 8:00 pm
Brisbane's Concrete Surfers deliver huge walls of fuzz and bass with forward thinking lyrics and an anti-establishment flair.

Brothers Jovi & Jamie Brook (vocals, guitar and drums respectively) paired up with mates Sean Foster (lead guitar) and Trent Courtenay (bass) in high school for what has become a fast-moving trajectory for the group of four kids from the South East Queensland suburbs.

Concrete Surfers are currently gearing up to release their first single of the year, Never Understood and will be touring the country throughout April with more music, festival appearances and live dates to be announced soon.

The track was produced by Fletcher Matthews (Dear Seattle, Sweater Curse, CLEWS, Fritz) who managed to showcase a step towards the band's ever-maturing song writing and fully developed sound. The band collaborated with local artist Seamus Platt for the single cover for what is shaping up to be a very special release for the band.

After selling out hometown shows, releasing their sophomore EP 'My Life On Repeat' and having already supported heavyweights like Royal Blood (UK), The Cribs (UK), The Jungle Giants, Ruby Fields, WAAX, Ocean Alley, The Gooch Palms and more, Concrete Surfers were invited to join the 2019 BIGSOUND line up and packed out their official showcase venues with raving reviews.

Concrete Surfers started 2020 with an appearance at Falls Festival in Byron Bay on a line up featuring Vampire Weekend, Halsey, WAAX, Amyl & The Sniffers and more. They followed up with a last minute hometown headliner show to raise money for the Australian bushfires and sold out the gig in 4 days.

The Music have labelled Concrete Surfers as "one of the best rock bands to come out of Queensland in recent memory" and after the packed out live performances of late, the release of their last single, 'Shattered Thoughts', and seeing what's still to come for the band in 2020, it is easy to see why.